Breaking News . . . Refusal to Issue New Colonial Uniforms "a brazen violation . . . of rights" says Mike Matos.

Mount Vernon, VA (Reuters) - Fresh from a recently resolved contract dispute, Frieda's Boss shortstop and constitutional scholar finds himself stuck in the middle of another controversy with player/manager Byron Emerson and this time its about fashion and not money. In a closed door players only meeting at a local Lincoln Park Greek restaurant, Matos first convinced his teammates that colonial wigs should be worn during all home games instead of traditional baseball caps and then got player approval to submit to Boss management his own colonial uniform designs. Asked about the private meeting, line-chef and long time baseball fan Petros Apostolos commented: "I'm not sure how those guys get down, but there were white wigs and Greek fries everywhere, no doubt."

While throwback uniforms have become a powerful marketing tool for major league baseball, Matos' proposed colonial uniforms certainly put a new spin on that concept and are "quite revolutionary" according to alcoholic fashion insider Justin Miller. Changing his vomit-stained t-shirt, Miller noted "if they wear those little pilgrim outfits, those players are gonna look queerer then a two dollar bill, but besides that I think we may be looking at a big revenue boost for Boss merchandisers. I've been trying to get jockeys to wear sailor suits since the roaring twenties but nobody ever listened to me."

Emerson apparently does not share Miller's optimistic outlook regarding the proposed alterations to the home stripes. Though he has not released an official statement, early indications are that he was not pleased by the idea of his players running around in nickers and pantyhose. A press conference has been tentatively scheduled for later in the week. As for Matos, he was unavailable for comment but his Moldavan trainer Radon, sugested that Matos is violently mad about Emerson's less then warm reception to the designs. "Matos has put a lot of work into making sure those colonial uniforms fit nice and tight just like they did back at the constituional convention" said Radon, known as the Maldovan Bull. "He has used a number of different wig designs to make sure that clumps of hair will not fly in the face of players as they shag fly balls and to deny him this request for improved uniforms would be a 'brazen violation' of his rights."

This is certainly the beginning of a bizarre story and we will provide updates as more details become available.





Freida SS Matos models the proposed road uniform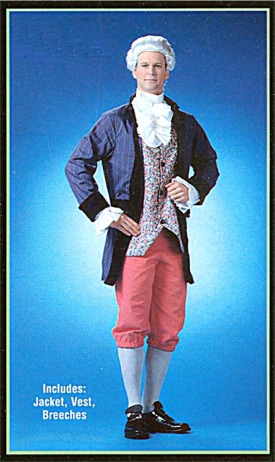 Matos' alternate home uniform